WordPress Web Design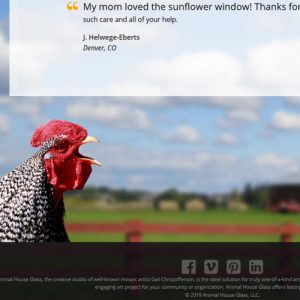 Artist Brings Communities Together
I worked with well-known glass mosaic artist Gail Christofferson to reimagine her website. She had taught herself Dreamweaver and created a quirky, fun site to promote her business. Being hand-coded HTML however, it took time to make updates. Time she'd rather have spent making art and promoting herself. She also had a strong desire to bring people together by facilitating community art projects, and wanted to make this a focus of her work. The name Animal House Glass stems from the fact that she lives on some farmland, and her 'family' included animals and livestock!
Primary Objectives
Deliver a clean and professional look
Maintain the fun, quirky feel
Serve as a compelling sales presentation for government and community leaders interested in community art projects
Showcase the amazing reviews her customers happily provided
Make the site much easier to update
To achieve these goals, I developed a very-customized WordPress theme that allows her to make even the most sophisticated updates easily. Simple forms drive complex pages and sections like the portfolio, guitars and community projects.
To maintain the fun and quirky appeal, I used a farm background with random animals (what else, right?) appearing at the bottom of each page. Since launching, the website has helped Animal House Glass secure several high-visibility community art projects. Gail really does a remarkable job of bringing people together, and the reviews make that very clear.
click any image to view larger
Related Work
Software/Technology