Magic 8 Ball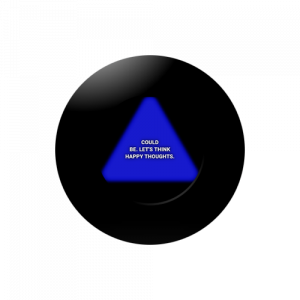 You're looking for answers. Here they are.
Whenever I can find a smidgen of free time, I love to create projects like this online Magic 8 Ball. For this quick weekend challenge, I wanted to recreate the class Magic 8 ball with a twist—lots more cheesy answers. I'm pretty sure we all need that.
Part of my goal was to create the 8 Ball with no images. Got close before I ran out of free time. Alas, the triangle background is the only image used. The rest is all CSS goodness. For a touch more realism, I made said triangle come in at random angles and directions. Also, note how the text seems to focus as it gets 'to the top.' Of course, it's responsive—everything, including the text, resizes to fit your phone so you can get answers you need on the go. 😉
Visit the online Magic 8 Ball here.
Related Work
Software/Technology