Book Design for Atlanta's First Hospital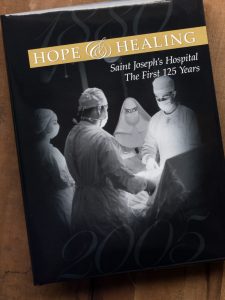 Book Cover Design, Book Content/Layout, Research, Photography
Saint Joseph's Hospital was founded in 1880, less than two decades after the civil war, and was instrumental in transforming Atlanta into a major city. As part of their 125th anniversary celebration, the hospital wanted a book that would chronicle its impressive history. I was tremendously honored to have the CEO personally request me for this project.
The backstory on this is … interesting. An agency specializing in book design had been hired and had been working on it for weeks. When the first draft of the book was presented, it was clear they had really missed the mark, and all confidence was lost. I was then contacted directly by the CEO and asked if I could take on the book's design. This was a big challenge, but I didn't hesitate. Just one little catch: the date to go to press was only six weeks away.
click any image to view larger
No time to waste! I read the copy. Met with doctors, staff, administration and the hospital's resident historian. Gathered hundreds of photos and negatives to scan. Photographed significant memorabilia dating back decades. Tweaked and edited content. Lived in Adobe InDesign for many days. And nights.
Deadline met? Yes! The book was delivered in time for the hospital's planned celebration and distributed to all employees. It was also available for sale and even won a nice little award.
Related Work
Software/Technology